Evidence-based nursing helps diminish medication side effect
Around WellSpan—Friday, February 08, 2008
 Open-heart patients benefit from research and new practice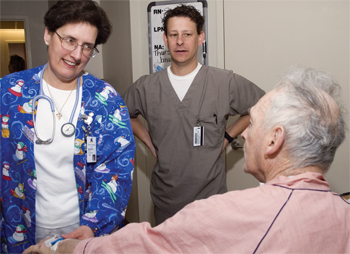 Sharon Douglas, R.N., checks a cardiovascular patient's IV site as Greg Lutz, R.N., looks on. Douglas and Lutz were part of a team that significantly decreased the number of patients suffering from thrombophlebitis.
"Some of our open-heart surgery patients were receiving the medication Amiodarone through an IV and developing swelling, redness, inflammation and infections in their arm," explained Sandra Young, a clinical nurse specialist in Cardiovascular Services at York Hospital.
"It not only resulted in discomfort for the patient but in some incidences it increased the costs for treatment."
York Hospital cardiovascular nurses decided to seek a solution to the side effect of the medication.  Young supervised the project.
Using evidence-based nursing, they were successful in significantly decreasing the number of patients suffering from thrombophlebitis, a condition which leaves the arm swelled and skin irritated.
Quality reports from Dec. 2004 through Feb. 2005 revealed that 18 patients experienced side effects from the medication.
Patients had received the IV drug treatment to control their heart rate and rhythm after open heart surgery.
The nurses reviewed literature to see if there was any information or evidence-based practice which addressed this issue.
Minimal information was found related to methods for decreasing the frequency of thrombophlebitis.
Nationally, about 25 percent of open heart surgery patients experience side effects from receiving Amiodarone via IV.
"Ideally, this medication should be infused through a special line in a larger vein. This was not a practical option for these patients. As a result, the nurses determined the concentration of the medication was one variable which could be altered," Young said.
"Amiodarone was infused as ordered with an additional IV fluid of saline running into the same IV line as the Amiodarone. This diluted the final concentration before it entered the vein in the patient's arm. It's the same principle as adding more water if your cup of tea is too strong."
Linda Pugh, Ph.D., director of evidence-based practice and nursing research for York Hospital, said, "WellSpan nurses have always been concerned with best outcomes for their patients.
"Evidence-based nursing is just a different tool to get at what is the most current evidence or best evidence for why we do what we do."
WellSpan nurses are researching more than 30 evidence-based practices and recently had four articles published in medical journals.
Evidence-based nursing is a Magnet component.  York Hospital plans to apply for Magnet accreditation this summer.
If selected, York Hospital would be among 11 other hospitals in Pennsylvania with the designation. Only two percent of hospitals nationally have achieved Magnet accreditation.